GR SUPRA /li
THE LEGEND RETURNS.
The new Toyota GR Supra's front-mounted, in-line six-cylinder engine has all the ingredients to stimulate your senses. At home on road or track, our high-performance sports car delivers 388PS and 500Nm of torque from its 3.0-litre turbocharged engine, for seamless power and instant response.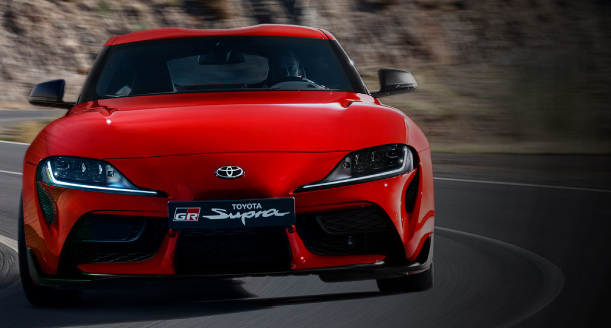 Handling /
POWER, AGILITY AND PRECISION HANDLING.
Thanks to a combination of a short wheelbase and wide track with a highly rigid body that's lightweight with a low centre of gravity, driving enthusiasts can look forward to an exhilarating blend of power, agility and precision.
READY TO PLAY /
Adaptive Variable Suspension (AVS) is at play in the new Toyota GR Supra. Featuring double-joint spring MacPherson struts at the front and a five-link axle at the rear, youll enjoy high levels of comfort when you want to relax and exquisite control whenever you want to play.
HIGHER RIGIDITY, GREATER PRECISION /
The new Toyota GR Supra's high body rigidity allowed for more precise and detailed refinements to the suspension geometry and tuning of the shock absorbers. The front suspension subframe and control arm mounting points have been made extremely rigid to ensure it corners with precision. By using aluminium for the control arms and swivel bearings the car's unsprung weight is reduced, for superior agility and efficiency.
50:50. NO COMPROMISE /
The new Toyota GR Supra's front-engined, rear-wheel drive layout ensures it achieves a perfect 50:50 front-to-rear weight distribution. Due to its light but rigid aluminium and steel composite frame, drivers can revel in confidence-inspiring stability, seemingly limitless grip and a neutral handling balance.
THE GOLDEN RATIO /
The best balance of great agility and superior stability is achieved with a ratio between wheelbase length and tread width of between 1.5 and 1.6. By drawing on world-level motorsport engineering and design, the new Toyota GR Supra achieves the ideal 1.55 'golden ratio';, for exceptional agility and stability when driving at the limit.
PERFORMANCE /
EXHILARATING CHARGE TO 100 KM/H IN 4.1 SECONDS
Equipped with a single, twin-scroll turbocharger, high-precision direct fuel injection and variable valve control, it delivers 388PS and 500 Nm of torque for an exhilarating charge to 100 km/h in 4.1 seconds and a top speed of 250 km/h.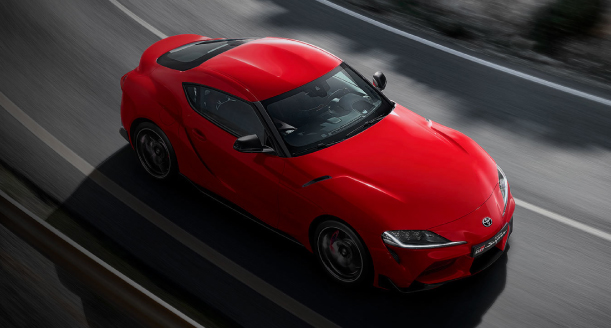 8-SPEED AUTOMATIC TRANSMISSION /
The new Toyota GR Supra's ultra-smooth six-cylinder engine is matched to an advanced, eight-speed automatic transmission – with paddle shifts on the steering wheel – that provides lightning-fast shifts and precise control through bends, when conditions allow.
ACTIVE DIFFERENTIAL /
The new Toyota GR Supra's standard active differential delivers huge benefits in stability and efficiency when the tyres are at their limits. This effect is felt in all phases of cornering, with increased stability during the braking and cornering phases and maximum grip as you accelerate out of bends.
HIGH-PERFORMANCE STOPPING POWER /
To help drivers exploit its full dynamic potential, the new Toyota GR Supra's high-performance brakes feature four-pot Brembo callipers, while its19-inch forged alloy wheels are equipped with high grip Michelin Pilot Super Sport tyres.
ACCELERATION FROM LAUNCH /
A Launch Control function enables powerful acceleration from a standstill with maximum traction, helping the new Toyota GR Supra charge from rest to 100 km/h in just 4.1 seconds, and go on to a top speed of 250 km/h.
DRIVING MODES /
Two driving modes let you tailor the new Toyota GR Supra to your mood. Switch from Normal to Sport, and in an instant engine sound and response, shift pattern, damping, steering and active differential performance are primed to perform. For even greater control of the car's performance, a special "track" setting can be selected that reduces the level of intervention from the Vehicle Stability System.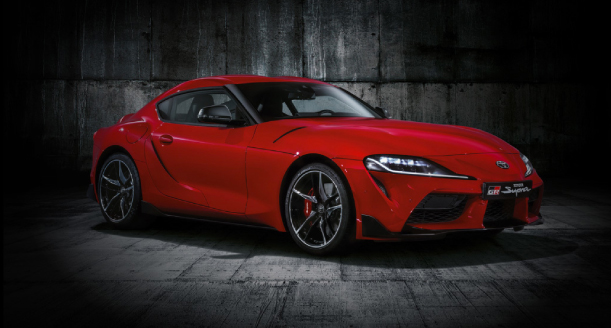 DESIGN /
POWERFUL LOOK THAT SCREAMS DRIVING PERFORMANCE.
First previewed by Toyota in the dramatic FT-1 concept car styled by its CALTY studio in California, its 'Condensed Extreme' design concept blends racing aerodynamics with a modern, powerful look that screams driving performance.
GAZOO RACING-INSPIRED AERODYNAMICS /
By drawing on world-level motorsport engineering, the New Toyota GR Supra achieves both optimum drag and lift characteristics, as well as an ideal front/rear weight balance. Its distinctive double-bubble roof reduces drag, without sacrificing headroom, while its arching rear lip spoiler suppresses lift.
CONDENSED EXTREME CONCEPT /
The 'Condensed Extreme' design concept refers directly to the new Toyota GR Supra's packaging. The 'Condensed'theme is evident in the relationship between its large-diameter tyres, short wheelbase and overall length, while 'Extreme' is interpreted in the car's wide stance, with tight cabin proportions and a broad tread, contributing to a high level of manoeuvrability and stability.
DISTINCTIVE DETAILS /
Complementing the new Toyota GR Supra's wide stance and short wheelbase are imposing 19-inch forged alloy wheels and distinctive six-LED headlamps. In a nod to its racing roots, the rear fog light and reversing lights are formed by dot-LEDs grouped in the centre of the rear bumper.
COMFORT /
MAKING DAILY LIFE EASIER
An 8.8-inch central multimedia system gives you access to navigation, vehicle status information and settings, music and hands-free calls, while a Smart Entry, Push Start system and large, expandable trunk make daily life easier.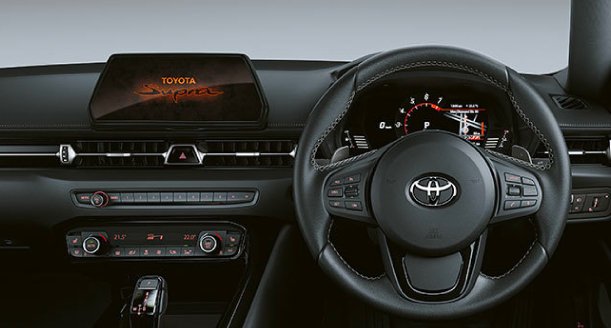 RACING-INSPIRED SEATS /
The new Toyota GR Supra's racing-inspired, power-adjustable (including lumbar support) seats incorporate integrated heating and memory functions. Finished in leather, they ensure comfort at all times and excellent support, especially on-track.
HIGH-QUALITY INFOTAINMENT /
For those moments when you want to settle back and relax, the new Toyota GR Supra Active grade is equipped with a 10-speaker audio system including Bluetooth® and USB port connections, and a central 8.8-inch display to access navigation with Supra Connect (in applicable markets). Premium builds on the Active grade with a 12-speaker JBL premium sound system and wireless mobile phone charger.
ADAPTIVE HEADLIGHTS /
You'll always have a clear view of the road in new Toyota GR Supra. LED technology is used for the adaptive headlights, rear lights and daytime running lights, and all mirrors offer auto-dimming, while rain-sensing wipers and a rear-view camera add a welcome touch of convenience.
SAFETY FIRST /
Being a high-performance sports car, safety is of paramount importance in the new Toyota GR Supra. The Supra Safety + package comprises Blind Spot Monitor and Lane Departure Alert, Rear-Cross Traffic Alert, Rear-end Collision Alert, Intelligence parking sensors with Automatic braking and an E-Call function that will send an automatic location alert to the emergency services in the event of a serious collision. All Toyota GR Supra's are also equipped as standard with Adaptive Cruise Control with stop and go.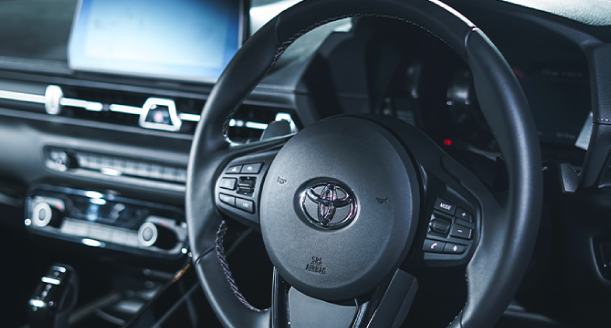 COCKPIT /
THE DRIVER IN THE CENTRE OF ACTION.
Influenced by the layout of single-seater racing cars, the cockpit of the new Toyota GR Supra is designed to put the driver in the centre of action.
Adjustable side bolsters in the seats, as well as knee pads provide support when cornering hard, while a digital combi-meter and a Head-up Display display speed, infotainment and navigation clearly in the driver's eyeline.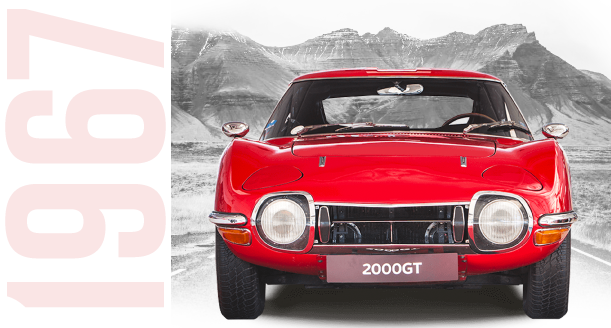 SUPRA LEGACY /
THE INFLUENCE OF AN ICON
The Supra bloodline can actually be traced back to the beautiful Toyota 2000GT of the '60s.
With its long, sweeping bonnet, rear-biased cabin and in-line, 6-cylinder engine and rear-wheel drive layout, the 2000GT's influence can be felt in every incarnation of the Supra.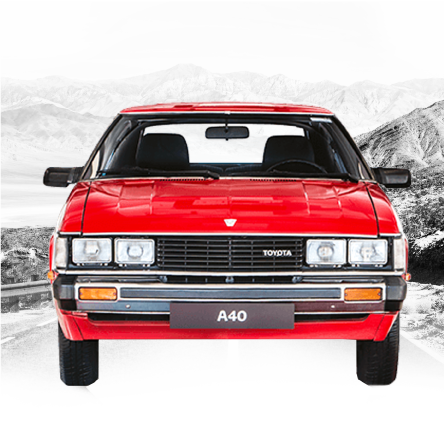 The Supra story starts with Celica, which provided the base for the original Toyota Celica Supra (A40) in 1978 with a lengthened chassis and an advanced in-line 6-cylinder engine.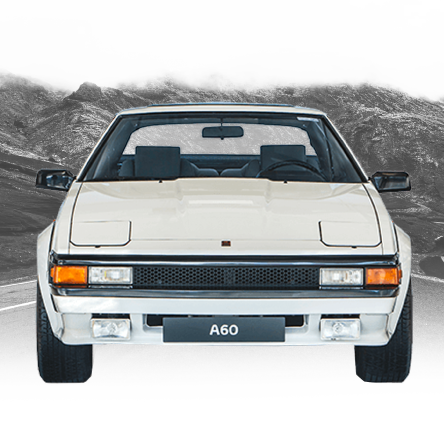 The crisp lines and pop-up headlights of the second-gen Supra amplified its stunning '80s aesthetic, along with its larger wheels and tires, and bulging fibreglass flares.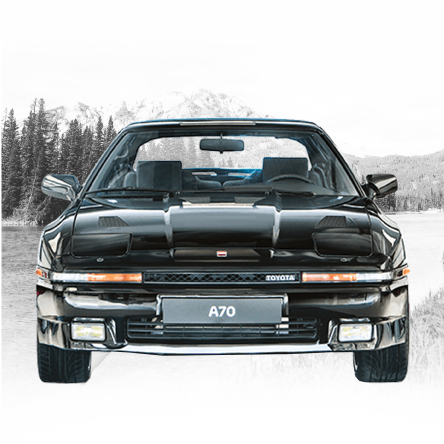 Toyota engineers built the A70 from the ground up with pure performance in mind. It was the first Supra to feature a turbocharged engine, power-enhancing variable air induction and electronically adjustable dampers.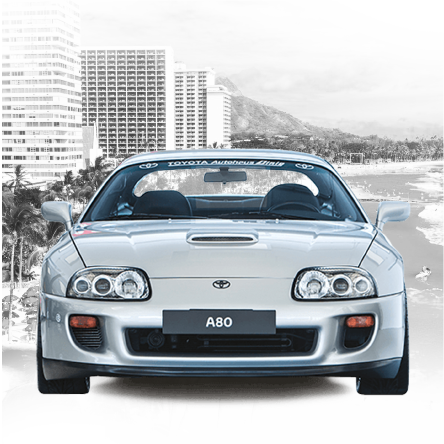 With its near-perfect weight balance, impressive 2JZ engine and unmistakable style, the A80 Supra is an artful blend of style, technology and performance.


Video/
GALLERY HIGHLIGHTS
image /
Gallery highlights
*Prices shown valid until 30th June 2022

TOYOTA FINANCIAL PACKAGES
We offer numerous benefits from the most ideal vehicle financing* to ensure yourself a hassle-free and enjoyable experience as a Toyota owner.
Fixed Rate Plan
Manage your budget with fixed monthly repayments.
Rates starting from 2.75%
Special 2.20%-2.40% from Bank Islam & Bank Rakyat
| | |
| --- | --- |
| Vehicle | Monthly Installment |
| SUPRA 3.0L UC | RM6,233 |
Interest Saving Plan
The Variable Rate Plan that saves you the extra Ringgit & tenure shorten when you pay more.
| | | |
| --- | --- | --- |
| Pay Extra Monthly | Total Interest Savings | Loan Term Reduced By |
| RM50 | RM1,343 | 1 MONTH |
| RM100 | RM2,633 | 2 MONTHS |
| RM200 | RM5,135 | 4 MONTHS |
| RM500 | RM12,038 | 9 MONTHS |
*Based on loan amount RM539,600 of 9 years loan period.
100% Islamic Loan
Up-to 100% Islamic loan vehicle Financing-i that eases your 1st step to owning a new Toyota.
Rates starting from 2.75%
Special 2.20%-2.65% from Bank Islam & Bank Rakyat
*Terms & Conditions apply.

TEST-DRIVE /




TEST-DRIVE THE GR SUPRA AT

THE GR GARAGES BELOW
FOKUS TETAP (SHAH ALAM) /
No. 2A, Jalan Setia Murni, AH U13/AH, Seksyen U13, 40170 Shah Alam, Selangor
MUTIARA MOTORSPORTS (JB) /
70, Jalan Mutiara 8, Taman Perindustrian Plentong, 81750 Masai, Johor
MUTIARA MOTORSPORTS (JB) /
70, Jalan Mutiara 8, Taman Perindustrian Plentong, 81750 Masai, Johor